I am what people term as a softie. I tend to feel certain things very strongly. I can cry at the drop of a hat just by the feelings that a random event evokes in me. A description of an event or a photo that for some reason just speaks to me. A song on the radio that hits a certain chord when I hear it.
When I was 17 I went with my mother and her soon to be husband to BYU Education Week. I didn't really want to go but they asked me to go as a chaperone. My mother is very strong in her belief that you should wait until marriage and didn't want there to be too much temptation.
While I was there I attended a seminar. To be honest I can't remember what the talk was about. The thing that I do remember was when the speaker's daughter sang a song called "His Hands" while photos flashed on an overhead screen.
Some of the lyrics to the song are:
His Hands tools of creation
Stronger than nations
Power without end
And yet through them
We find our truest Friend
His Hands
Sermons of kindness
Healing men's blindness
Halting years of pain
Children waiting
To be held again
His Hand would serve His whole life though
Showing man what hands might do
Giving, ever giving endlessly
Each day was filled with selflessness
And I'll not rest
Til I make my hands what they could be
I will make my hands like those from Galilee
His Hands warming a beggar
Lifting a leper
Calling back the dead
Breaking bread
Five thousand fed
His hands
Hushing contention
Pointing to Heaven
Ever free of sin
Then bidding man to follow Him
They take His hands
His mighty hands
Those gentle hands
And then they pierce them
They pierce them
He lets them because of love
From birth to death
Was selflessness
And clearly now
I see Him with His hands
Calling to me
And though I'm not yet
As I should be
I know now
How I could be
I will make my hands
Like those from Galilee
The very last photo of the slide show make me break down in tears. It was a photo that I had never seen before and spent over the next 10 years looking for. The look on Christ's face and he is welcoming someone home is full of love but tinged with a desperation that to me is reminescent of a parent welcoming home a wayward child.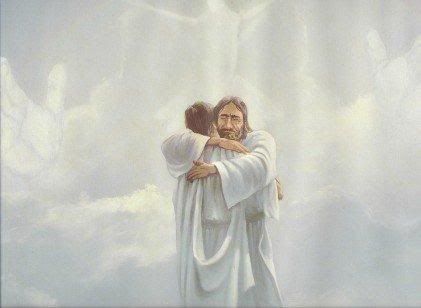 I don't really know why the death of an aquaintance doesn't make me cry but a photo and a song brings tears to my eyes on a regular basis.
What moves you? What brings tears to your eyes?