This weeks HDH was born on September 17, 1951 in Manhattan, KS.
The Guinness Book of World Records cited her as the youngest showgirl in Las Vegas history
She briefly dated Elvis Presley.
In the early 1980's she created a character that is well known through today. She changes her appearance so drastically that people don't recognized her out of costume.
She has appeared on The Tonight Show Starring Johnny Carson and many other talk shows.
She did guest rolls on TV dramas such as CHiPS, The Fall Guy and Fantasy Island.
While hosting her own, self titled show, she adopted the flippant tone of a California valley-girl, she brought a satirical, sarcastic edge to her commentary without ever being crass or mean-spirited. And like a macabre Mae West, she reveled in dropping risque double entendres as well as making frequent jokes about her eye-popping display of cleavage.
Although she is typically correlated to the Halloween festivities, this weeks HDH is beloved all year round.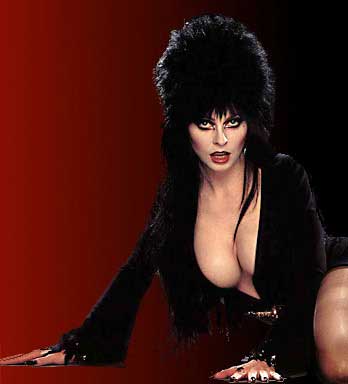 This weeks Hump Day Hottie is ~ Cassandra Peterson a.k.a. "Elvira, Mistress of the Dark"