When I was a kid (around 5 or 6) my family went to the circus for the first time. I was giddy with excitement. The thought of seeing the elephants, people riding on the back of horses, and being up close to lions was almost more than I could handle.
We arrived early and found our seats. We were in the bleacher seats and were about 15 rows up. My brother
and sister were climbing around playing some kind of bleacher style tag and I decided to join in. I started to chase my brother and slipped on something wet. I tried to stop my fall but was unsuccessful.
I had one foot on one side of the bleacher and one foot on the other side so I was unable to catch myself. I slipped really hard and landed on the edge of the front bleacher right in between my legs. On my vajayjay.
Oh the pain. It blasted through my body and I screamed at the top of my lungs and black spots danced before my eyes. My mother grabbed me and held me while the throbbing agony continued.
As the pain subsided I was able to catch a breath and told my mom that I was OK. It hurt like the dickens but had finally petered out to a throbbing, dull ache.
We watched the performers and I thoroughly enjoyed the circus until it was over.
When we were leaving my mom took my sister and I to the bathroom so that we didn't have to stop on the car ride home. I went into my own stall to go but when I went it burned and there was some blood in my panties and on the paper when I wiped.
I called to my mother and she brought me into the handicapped stall and tried to
see if there was anything wrong. She thought that she saw a small scratch but that was it. I pulled up my panties and we went home.
When we got home my mother had me lay down on the bed so that she could make sure that it wasn't anything serious. I was really young so I wasn't embarrassed at all. I spread my legs open so that she could take a look.
Sure enough, I had broken my vajayjay. I had a gash between my inner and outer labia that was deep enough to need stitches.
My mom told me that we were going to go to the emergency room and put me into different clothing. She made me wear this really itchy wool jumper dress with a turtleneck underneath.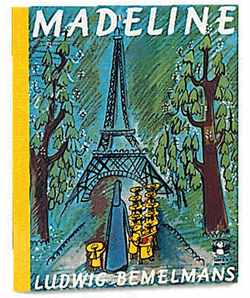 I grabbed my Madeline book and went with my mom to the car and drove to the hospital. I received a horribly painful shot to numb the area and was told to lay on the gurney until it was completely numb.
I don't remember much of the hospital visit other than laying there in my itchy dress with my legs spread while a male doctor was stitching me up while I read my Madeline book.
All I can say is Thank God that they had already invented dissolving stitches. Everything healed fine and although I haven't really looked, I don't think that there is a scar of any kind.