Graduated from Yale University in 1989 with a BA in Political Science.
Interned at the CIA.
Lived in Vietnam for a year and studied Vietnamese at the University of Hanoi.
Haunted by his brother's suicide in 1988 he started filming stories from war-torn regions around the globe, including Somalia, Bosnia & Rwanda.
He explains, "The only thing I really knew is that I was hurting and needed to go someplace where the pain outside matched the pain I was feeling inside."
In 1995 he became a correspondent of ABC News rising to the position of co-anchor of World News Now.
In 2000 he switched career paths, taking a job as the host of ABC's reality show The Mole.
"My last year at ABC, I was working overnights anchoring this newscast then during the day at 20/20. So I was sleeping in two- or four-hour shifts, and I was really tired and wanted a change. I wanted to clear my head and get out of news a little bit, and I was interested in reality TV—and it was interesting."
He returned to broadcast news in 2001 now at CNN as co-anchor on American Morning and then the weekend prime time anchor.
In 2003 he was made anchor of a fast paced weeknight news program that bears his name.
Was called "the anchorperson of the future" by CNN president Jonathan Klein.
Wrote a book called "Dispatches From The Edge" in 2006 which detailed his life as a journalist and human being in Sri Lanka, Africa, Iraq etc.
Fun facts:
Started going gray around age 20 and was completely gray by age 35.
Named as one of the Sexiest Men Alive in 2005 by People Magazine.
He was Number 3 on Playgirl's magazine's Sexiest Newscasters List.
Son of Gloria Vanderbilt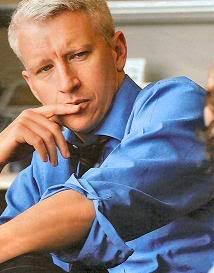 This week's Hump Day Hottie is ~ Anderson Cooper.